2013-8th Annual  Kecksburg Old Fashion & UFO Festival   July 27-28, 2013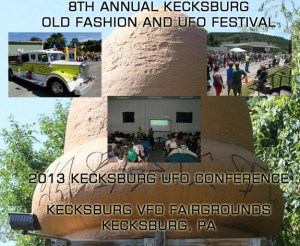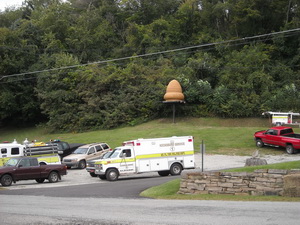 Come join us for a weekend of free family fun and entertainment.
Free UFO Conference
Sunday 1:30-5 PM.
July 26, 2013
Half price night in the kitchen
On burgers, fries and plain dogs!
Music by D.J. Music Masters
 July 27, 2013-Saturday
Festival grounds open at 11 AM-10 PM
 Parade starts at 2 PM
Prize for best UFO Entry
Prize for best UFO Costume
Prize for best UFO Pet Costume
Prize for Best UFO Motorcycle
The Bucket Brigade, Bed Race, Hail Bail Toss will follow in the afternoon.
The famous "Smoke In The Valley Burnout will take place at 7 PM
Music by D.J. Music Masters
 July 28, 2013-Sunday
Festival grounds open at 10 AM
Car Cruise-10 AM-5 PM
 Famous "Out of this World Hot Dog  Eating Contest" at 1 PM.
Music by Katrina Lynn on stage at 1 PM
 Free!-Kecksburg UFO Conference 1:30-5 PM   (In the EMS Building)
Those scheduled to speak at the conference on Sunday
Stan Gordon, Welcomes the crowd and gives an update on recent UFO and other strange sightings
from the Westmoreland County area and other statewide locations.
Michael Ranck-Attorney- Was a college student at University of Pittsburgh, who was at Kecksburg on the night of the incident. He will discuss his experience of encountering armed soldiers and approaching close to the tarp covered object on a flatbed tractor trailer. He is considering a lawsuit to pressure the government to release the recovered object to the public.
Eric Altman, Director of the Pennsylvania Bigfoot Society will discuss " Bigfoot Sightings From the Last Five years in Pennsylvania."
John Ventre, Mutual UFO Network PA State Director, will discuss, "UFOs Over Pennsylvania."
Fred Saluga, Former police officer and UFO investigator-"How a UFO Sighting is Investigated by (MUFON) the Mutual UFO Network. "
Kids Pedal Power Tractor Pull-3 PM-$1/Kids 3-10 Years old must sign up for this event.
Festival ends at 5 PM
 Inside the Social Hall
Open all hours of the festival
 Annual Craft Show
Jewlery Venders
UFO & Bigfoot Researchers displays
UFO Store
The following UFO, Bigfoot and Paranormal Investigators and Groups are scheduled to set up a display at the 2013 Kecksburg UFO Festival.
 Eric Altman-Director, Pennsylvania Bigfoot Society (PBS)
Ryan Cavalline and Dave Rupert are the Legend Hunters. Ryan is also producer of a soon to be released docudrama on Bigfoot in Pennsylvania.
Stan Gordon-UFO-Bigfoot Researcher and Author
Dave Dragosin-Bigfoot Investigator and graphic artist
Fred Saluga,  MUFON State Regional Director in the State Of Pennsylvania
Brian & Terrie Seech-(CUE) Center For Unexplained  Events
John Ventre-MUFON Pennsylvania State Director and author of "UFOs Over Pennsylvania."