Press Release
Contact information: Kecksburg V.F.D., Ron Struble-724-423-9540 or 724-423-2580
Eyewitness Account Highlights 2013 Kecksburg UFO Conference
(Kecksburg Old Fashion & UFO Festival-July 26-27-28.)
It's that time of the year for some out of this world free family fun at the 8th Annual Kecksburg UFO Festival. The annual festival commemorates the December 9, 1965, incident where a mysterious object fell from the sky into a nearby wooded area, and was reportedly taken away by military authorities who arrived to investigate. The festival will be held this year from July 26-28th.
On Friday night the Kecksburg V.F.D. will hold a half price night in the kitchen and will have music by DJ Music Masters. The annual parade kicks off on Saturday at 2 PM, and prizes are being awarded for the best UFO entry, UFO costume, UFO pet costume, and UFO motorcycle. All day long many special events are scheduled such as the bucket brigade, bed race, hay bale toss and the famous smoke in the valley burn out at 7 PM.
On Sunday, grounds open at 10 AM with the car cruise. At 1 PM, stop by for the famous, "Out of this World Hot Dog Eating Contest".
From 1:30-5 PM, the free UFO Conference will be held.  Scheduled to speak are Stan Gordon, who will welcome the crowd and give an updates on recent UFO and other strange sightings from the Westmoreland County area and other statewide locations.
Michael Ranck, Attorney-Was a college student at the University of Pittsburgh, who was at Kecksburg on the night of the incident. He will discuss his experience of encountering armed soldiers and approaching very close to the tarp covered object on a flatbed tractor trailer. He is considering a lawsuit to pressure the government to release the recovered object to the public.
 Eric Altman, Director of the Pennsylvania Bigfoot Society will discuss " Bigfoot Sightings From the Last Five years in Pennsylvania."
John Ventre, Mutual UFO Network PA State Director, will discuss, "UFOs Over Pennsylvania."
Fred Saluga, Former police officer and UFO investigator- "How a UFO Sighting is Investigated by (MUFON) the Mutual UFO Network.''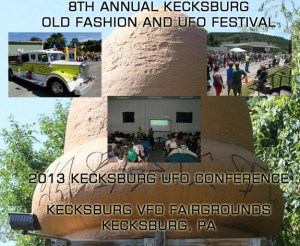 Visit inside the social hall during the event for the annual craft show, jewelry vendors, and displays by UFO and Bigfoot researchers and organizations. Make sure you stop by the Kecksburg V.F.D. UFO store as well. There are many other events planned for the festival. You can locate the Kecksburg UFO Festival grounds at the intersection of Route 982 and Claypike. For more details go to: www.kecksburgvfd.com or call 724-423-9540 or 724-423-2580.