Attention: 1965 Kecksburg UFO Witnesses-Join us for a special event on July 26, 2015.
July 26, 2015-A special event commemorating the 50th anniversary of the Kecksburg Crash-landing case will take place during the public conference on July 26, 2015, at the Kecksburg VFD UFO Festival at 1:30 PM.
As part of the program there will be a reunion of Kecksburg witnesses. We will hold a panel discussion where you can discuss for the public what you recall having experienced during the 1965 incident. There will also be a Q&A session. If you are interested in coming to Kecksburg and taking part in this historic event, please call me at 724-838-7768 or contact me via email at paufo@com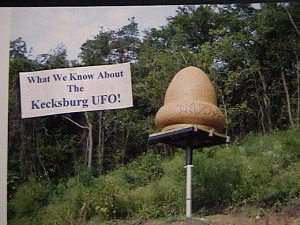 cast.net.