2015 Kecksburg, PA VFD UFO Festival Schedule of Events
Celebrating the 50th Anniversary of the Kecksburg UFO Crash-Landing Incident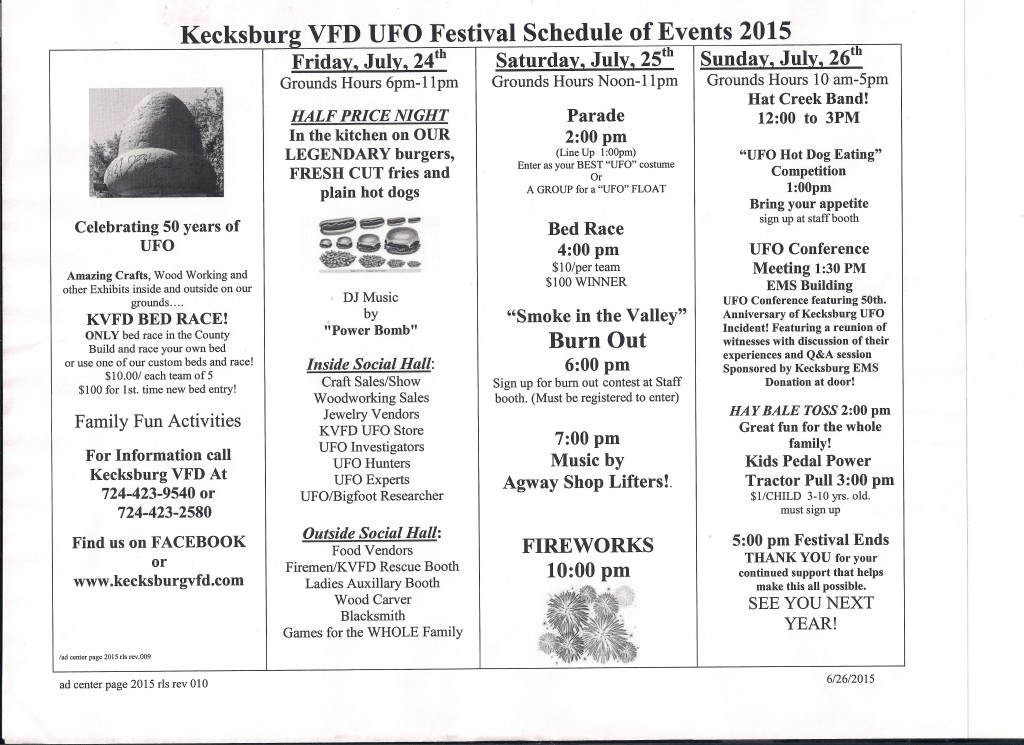 July, 2015
For Immediate Release
Press Release from: Kecksburg V.F.D., 5128 Water Street, Mount Pleasant, Pa 15666
Fire Department Contact: Ron Struble-724-423-5116 or 724-423-9540
Incident Researcher: Stan Gordon-724-838-7768 (paufo@comcast.net)
50th Anniversary of Kecksburg, PA UFO Incident to be Celebrated at UFO Festival Conference
 Late on the afternoon of December 9, 1965, a mysterious object fell from the sky into a wooded area near the community of Kecksburg  in Westmoreland County, PA. Hundreds of people, including reporters, descended on that rural community that evening trying to catch a glimpse of what had crash-landed into the woods. What was down in the woods that caused the military to quickly respond to that location and keep civilians away from the impact site? Fifty years later, the mystery of the Kecksburg UFO remains.
The upcoming anniversary of this Pennsylvania UFO case which has received worldwide attention will be celebrated during the annual Kecksburg VFD UFO Festival Conference that is being held on Sunday, July 26, 2015, at 1:30 PM. The UFO Conference will feature a special event focusing on the 50th Anniversary of the UFO incident. This will include a reunion of some Kecksburg witnesses with a discussion of their experiences and Q&A session. Stan Gordon will present an illustrated lecture discussing his fifty years of investigation of the case. He will also show excerpts from his award winning video documentary, "Kecksburg: The Untold Story" focusing on interviews with area witnesses. Stan will also give an update on more recent UFO, Bigfoot, and strange encounters reported from around the area.
The Kecksburg UFO Festival will take place July 24-26, 2015, and is a free family fun event. On Friday the hours are 6-11 PM. It is half price night on food in the kitchen. On Saturday the hours are 12-11 PM. The parade starts at 2 PM with awards for the best UFO costume and UFO float. There will be ongoing events such as their famous Bed Race and "Smoke in the Valley Burn Out" as well as children's activities. Fireworks will light up the sky at 10 PM. On Sunday the hours are 10AM-5 PM. Be sure to attend the "UFO Hot Dog Eating Competition" at 1 PM just before the UFO Conference. There will also be entertainment, an inside and outside craft show, food venders, and ongoing events all weekend long.
There will also be displays from area UFO, Bigfoot, and Paranormal groups. Scheduled to have displays this year are Stan Gordon researcher and author, John Ventre, PA MUFON Director and author, Fred Saluga, W. Va. MUFON Director, Jim Brown of Jim's Destinations, Brian & Terrie Seech of the Center for Cryptozoological Studies, Dave Dragosin, Associate Director Western PA of the PA Bigfoot Society, Ryan Cavalline and Dave Rupert of The Legend Hunters, Cheryl Alsippi and Darlene Koedel of AKLKO PSI, and Diane and Jim Trick, of the Goosebumps Paranormal Society.
For more information go to The Kecksburg V.F.D. website: www.kecksburgvfd.com or Stan Gordon's website: www.stangordon.info. For information call 724-423-9540 or 724-423-2580. The festival is located at the intersection of Claypike & Route 982.
Keep Checking back For Updates!