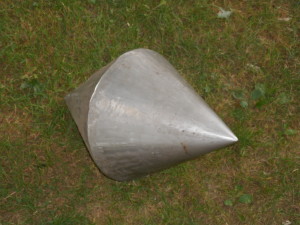 What Is this Mystery Object?
On June 16, 1980, an unusual incident occurred in a rural location not far from Herminie, in Westmoreland County, Pennsylvania. It was about 9:30 PM, when the lady of the house was in her bedroom and noticed a bright object about the size of a car headlight hovering near some trees behind the house. She opened the window but heard no noise. Several minutes later when she returned to the window, the bright light was gone.
The next day, her husband discovered a strange metallic object sticking out of the ground, on the hill behind the house. The object which weighed a little over 20 pounds, was over 21 inches long, and looked like two metallic cones that had been welded together. My PASU group investigated the case many years ago. A laboratory analysis indicated that the object was made of three primary components, nickel, chromium, and iron and determined to be 100 percent stainless steel. The object appeared to be hollow.
There have been theories over the years as to what the object was, but nothing conclusive so far. The family involved was very credible and were perplexed over the incident. If you can identity this object please contact me at: paufo@comcast.net.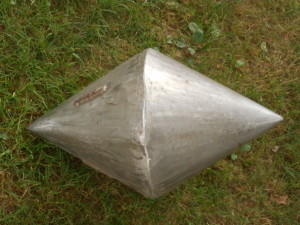 (Photos copyright Stan Gordon)