The Mountain Devil
Steel City Con, Monroeville, PA, March 2012
Butler (PA) Paranormal Conference, April 2012
Sci-Fi In The Valley Con, Ebensburg PA, May 2012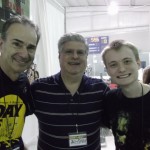 Mark Tierno (left) with Stan and Jeremy Ambler (right). Mark Tierno is best known for his role as the featured zombie Beef Treats in George A. Romero's famous film, 'Day of the Dead.' He also has a leading role on the SyFy Channel TV series, 'The Mercury Men', as Edward Dorman. Jeremy Ambler is well known for his role as Walker on the AMC TV series, 'The Walking Dead.' He has also appeared in other shows such as The Three Stooges, American Reunion, and The Dukes of Hazzard.
Monster Bash 2012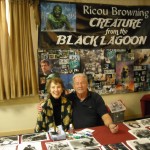 Julie Adams & Ricou Browning who starred in the classic movie 'The Creature From The Black Lagoon'. Julie Adams starred in many movies and tv shows with other famous names such as Elvis, Rock Hudson, and Jimmy Stewart. Ricou Browning appeared in such films as 'Revenge Of The Creature' and 'The Creature Walks Among Us'.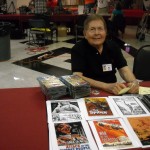 Bert I. Gordon. The famous producer of many classic Sci-Fi movies featuring giant monsters and beasts. Some of his movies include 'The Amazing Colossal Man', 'The Cyclops', and 'King Dinosaur'.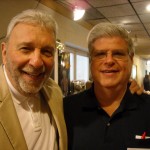 Stan with Chilly Billy Cardille. Bill was the host of the famous Saturday night Sci-Fi-Horror tv show 'Chiller Theater' on Channel 11 TV in Pittsburgh from 1963-1983. (I watched Chiller Theater every Saturday night and really miss this classic show) You can learn more about Bill and Chiller Theater at: http://www.chillertheatermemories.com